It's always good to know Holmes Beach zoning rules if you are looking to buy or rent on the island. The Holmes Beach zoning is a bit tricky to understand. There are many sections of Anna Maria Island that only allow for monthly rentals as opposed to the weekly rental zones. This is very important for the real estate investor because this can make or break your income stream. I have attached the Holmes Beach zoning map for reference.

Currently, the Cities of Anna Maria Island and Bradenton Beach are all zoned weekly and Holmes Beach is the only city on Anna Maria that has variances.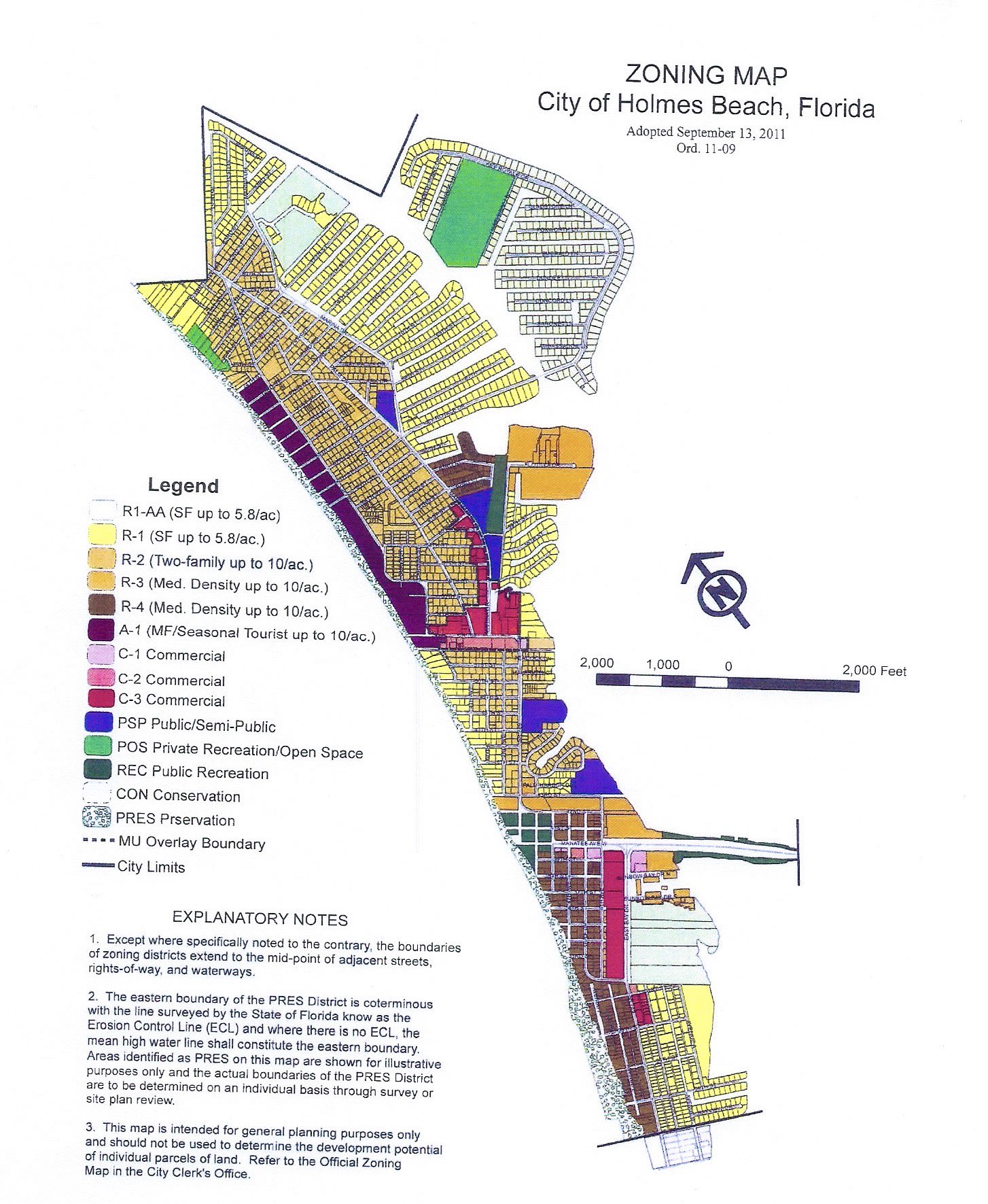 Holmes Beach zoning map explained:
R1 and R1 AA zones may only be rented for 30 days or more. There has been a great deal of discussion in the past that one guest per month is acceptable however the code does dictate 30-day minimums so if you are purchasing a Holmes Beach property for rental income be sure to utilize 30-day minimums as your reference for income to be sure you use a conservative approach rather than an aggressive approach when calculating potential revenue. The typical buyer for these zones is someone who would like to stay multiple months and perhaps rental income is nice to have but not necessary to fiscally maintain the property. Key Royale and Bay Palms neighborhoods fall into this category.
R2-R4 zones can be rented for a minimum of 7 nights. Holmes Beach has a vacation rental ordinance that requires annual inspections for vacation rentals in these zones. The typical buyer for these zones is someone who would like to rent the property weekly for most of the time. Warning! If you plan on living in the property or visiting for multiple months be aware that it can be noisy. R2-R4 zones are primarily filled with seasonal vacation rental homes so your neighbors normally change weekly. If you require significant rental income for your Anna Maria Island property then consider the impact later if you plan to live at the property permanently down the road.
A1 zones can be rented nightly and it is zoned for high tourism. The typical buyer for this area is someone who wishes to be close to the beach and maximize rental income as well as minimize maintenance on the property since the vast majority of properties in the A1 zone are condominiums. Most of the condominium bylaws and HOA supersede local laws and most condos are monthly rentals.
C1 – C3 zones are primarily commercial areas of Holmes Beach which are not residential-friendly.