Tampa Bay Lightning Family Carnival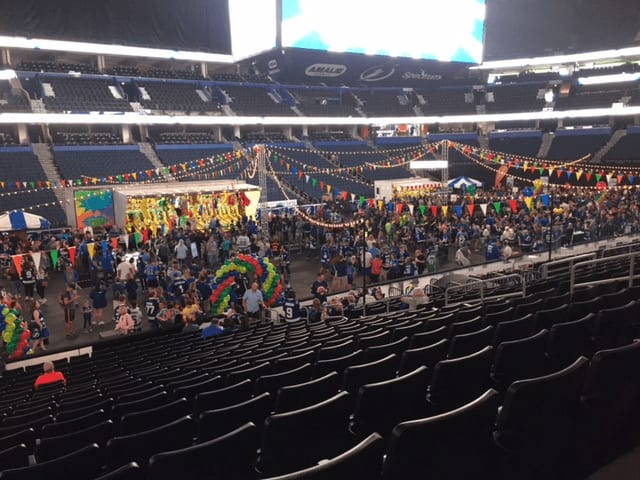 Last Sunday my family and I headed to the "Tampa Bay Lightning Family Carnival" for a day of fun!
My family goes crazy for professional Hockey especially the Tampa Bay Lightning Bolts! We live just 50 miles South of the
Amalie Arena
so it's easy to head up for games. My 15-year-old daughter who wears Hockey jerseys to High School every day can name every player and his position in the entire NHL league! The kids are Hockey fanatics!

For the 3rd year now Dex Imaging and Shriners Hospital for Children have hosted the Tampa Bay Lightning family carnival at the Amalie Arena in Tampa.
This was our first year attending the Tampa Bay Lightning Family Carnival so we did not know what to expect. We paid $40 each for the tickets online and headed to the Amalie Arena on a late Sunday morning to get there right when they opened at 1:00 pm. We got to the area early so we stopped at
Ferg's Live
a popular cavernous game-day Sports bar and restaurant to hang out before, during and after events at the Amalie Arena. After some yummy hot pretzels and spicy Bloody Mary's and French fries for the kids, we got in the enormous line with excited Hockey fanatics all wearing blue Lightning jerseys to enter the Arena for a day of fun with the Lightning.
The entire Arena was decorated in a 'Carnival" theme Big Top style where you could find carnival style games on the event floor with the Lightning personalities hosting the games! Bright blue Cotton candy and freshly popped popcorn were being handed out as we entered by several fun and crazy clowns from the clown college at Ringling Brothers Barnum and Baileys Circus and
FELD entertainment
.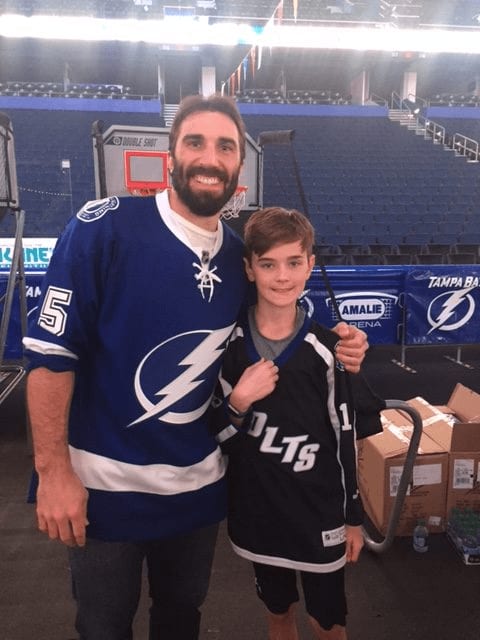 Our first stop- Garrett our 12-year-old son got to play a quick game of basketball with basketball Lightning player Jason Garrison. Garrett was so nervous he could not barely get a ball in the hoop. He was just so excited to be able to play with a real Tampa Bay Lightning player!
We headed up to the Promenade level where you could play modern games with the players. Garrett played Mario Cart with the Lightning goalie Peter Budaj for another $20 donation. Again my computer game wiz was so nervous he came in 7th place playing Mario Cart with Budaj!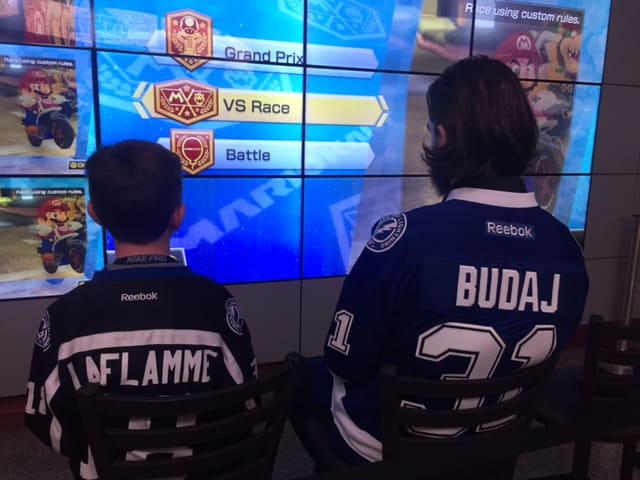 Steven Stamkos was playing Ping Pong and Callahan was playing Wii. The kids were just so overwhelmed by seeing all their favorite players including Victor Hedman at the dart booth, Coburn on the Zamboni and Kucherov in the dunk tank. This was an awesome chance to see their favorite Lightning players outside of "Hockey"and challenge players to fun carnival games for a good cause.
We bought the $25 Mystery bags that were for sale in the arena area. Both kids got cool Lightning stuff including signed Lightning hats, stickers and towels!

Other fun things to do at the event was to tour the Lightning locker rooms for $20 each, learn about the science of ice, and visit Lightning Alumni in Alumni Alley.

We missed out on making reservations for the exclusive autograph sessions with select players but we were lucky enough to see them walking around the arena and playing games! Next time we will try to get on the list to purchase these tickets in advance!
We cannot wait to go next year to the Tampa Bay Lightning Family Carnival! Go Lightning!